---
Dr. Peter Hotez, renowned vaccine scientist and physician, joins Dr. Yousif Shamoo, Rice University infectious disease specialist and campus COVID-19 advisor, to discuss the latest COVID-19 vaccine updates. Topics may include: The science behind COVID-19 vaccines, vaccine concerns and myths, the status of vaccine rollout locally and nationally, the impact of the new presidential administration on rollout progress, the threat of COVID-19 variants, and the road ahead including prospects for continuing precautions and attaining herd immunity. The session will include a brief audience Q & A.
Sign Up For Access To This Session
If you experience trouble with the form above, please try again in an alternate browser. To optimize your experience, we recommend using Google Chrome or Mozilla Firefox.
Closed captioning is available in the space above. If you are having trouble, please turn enable closed captioning using the "CC" icon in the video player or disable your ad blocker and try again.
About the Presenters

Peter Hotez, M.D., Ph.D.
Peter Hotez is professor of pediatrics and molecular virology at Baylor College of Medicine, where he is also co-director of the Texas Children's Center for Vaccine Development and Endowed Chair in Tropical Pediatrics. He is a vaccine scientist who has led the development of vaccines to prevent and treat neglected tropical diseases and coronavirus infections. A new Texas Children's COVID-19 vaccine in India is now undergoing clinical testing. Dr. Hotez is the author of more than 550 scientific articles and four books. He is an elected member of the National Academy of Medicine and American Academy of Arts and Sciences and has been honored by the Pan American Health Organization, the World Health Organization, Research America, B'nai B'rith, American Society of Tropical Medicine and Hygiene, and other organizations. Dr. Hotez appears frequently on major news outlets promoting global health, vaccines and immunizations and countering antivaccine and antiscience movements.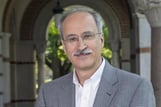 Yousif Shamoo, Ph.D.
Yousif Shamoo is a Professor of Biosciences at Rice University and the Vice Provost for Research. He is also a member of the Rice University Crisis Management Team for which he provides COVID-19 forecasting and other scientific guidance regarding infectious diseases. Dr. Shamoo's research lab studies the rise of multi-drug resistant bacteria (hospital 'super pathogens') and receives support from the National Institutes of Health and the Department of Defense. He is the recipient of the American Society for Microbiology Distinguished Lecturer award and Rice's top teaching award, the George R. Brown Award for Excellence in Teaching.
You may also be interested in...
---
The Post-Pandemic Future of Houston and the U.S.
On the 40th anniversary of the Kinder Houston Area Survey, examine how the pandemic, political and economic upheavals and growing awareness of systemic racism have transformed our city and nation.