---
Data
Fundamentals of Social Distancing and Flattening
Surprisingly some of the clearest and most insightful holistic articles came from a non-scientist Stanford business graduate named Tomas Pueyo. These are great reading!
Case Study Data
Good examples of control are South Korea and Taiwan.
A good example of sufficient testing and contact follow up control is Germany.
Make sure to use a logarithmic plot of the case data to see if the trend is flattening.
If you are interested in the primary scientific reports here are some highlights but you would probably need a good background in medicine or science to get a lot out of these
About Yousif Shamoo, Ph.D.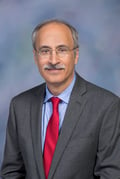 Dr. Yousif Shamoo is a Professor of Biosciences at Rice University and the Vice Provost for Research. He is also a member of the Rice University Crisis Management Team for which he provides COVID-19 forecasting and other scientific guidance regarding infectious diseases. Dr. Shamoo's research lab studies the rise of multi-drug resistant bacteria (hospital 'super pathogens') and receives support from the National Institutes of Health and the Department of Defense. He is the recipient of the American Society for Microbiology Distinguished Lecturer award and Rice's top teaching award, the George R. Brown Award for Excellence in Teaching.
Interested in learning about similar offerings?
---
Experience lifelong learning driven by your fascinations. The Glasscock School's Community Learning & Engagement offers participants an opportunity to explore the arts, humanities, sciences, social sciences, creative writing, photography, studio art, mind-body practices and many other subjects in our short, non-credit courses and programs for the community. Learn more by visiting glasscock.rice.edu/community.