---
During times of uncertainty, it is especially important to establish an organization-wide strategy for building, advancing, and managing prospective donor relationships through cultivation and stewardship activities. Learn efficient ways to adjust your approach to your prospective donor pipeline through timing, messaging and outreach. This webinar is for all size development shops and will also share practical techniques for effective remote communication between staff members, with or without a dedicated prospect development team.
This session is brought to you in partnership with United Way of Greater Houston, BWF and the Center for Philanthropy and Nonprofit Leadership at Rice University.



Sign Up For Access To This Session
If you experience trouble with the form above, please try again in an alternate browser. To optimize your experience, we recommend using Google Chrome or Mozilla Firefox.
Closed captioning is available in the space above. If you are having trouble, please turn enable closed captioning using the "CC" icon in the video player or disable your ad blocker and try again.
About Bond Lammey & Amy Lampi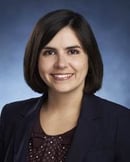 Bond Lammey is senior vice president of prospect development at BWF. Bond's experience ranges from higher education to academic medicine, large and small social service agencies, and national and local member/cause organizations. She is accomplished in principal gift prospecting, working with non-natural constituencies, daily wealth screenings, and comprehensive prospect development strategies.

Prior to joining BWF, Bond led prospect research efforts at the University of Chicago, where she oversaw the central prospect research team and developed integrated strategies with prospect management, analytics, corporate and foundation relations research, and non-central research teams at the medical center and Booth School of Business.

Bond received her BA in Sociology and her Master of Management in Nonprofit Administration, both from North Park University in Chicago, Illinois. She is the president of the board of Apra International, is an instructor for the Center for Philanthropy and Nonprofit Leadership at Rice University's Susanne M. Glasscock School of Continuing Studies, and has presented in the United States, Canada, Australia, and Asia at AFP, CASE, ADRP, aasp, and Apra conferences.

Amy Lampi is an associate vice president at BWF with more than 18 years of fundraising experience in the performing arts, education and health care. As a development generalist, she has a wide range of experience from annual giving and database administration, to major gifts and the management of a development team.

Prior to joining BWF, Amy served as the Director of Development at Theatre Under The Stars, where oversaw all fundraising aspects of the theatre including board, annual giving, corporate and foundation giving; capital campaign and major gifts; special events; prospect research, development operations and gift processing. Amy also served as the Associate Director of Development at the Alley Theatre, where her cutting-edge work in fundraising analytics with Josh Birkholz of BWF was featured in the August 2016 issue of The Chronicle of Philanthropy.
Amy is a recognized leader and speaker for the Tessitura Network and her local Houston chapters of AFP and Apra. Amy lectures on Donor Relations and Fundraising Analytics for the Center for Philanthropy and Nonprofit Leadership at Rice University's Susanne M. Glasscock School of Continuing Studies.
About the Center for Philanthropy & Nonprofit Leadership
---
At the Center for Philanthropy & Nonprofit Leadership, we envision a vibrant philanthropic sector in which nonprofit organizations achieve their missions and people are inspired to give and serve. Our mission is to increase the effectiveness and impact of the nonprofit sector by providing education and nurturing leadership among professionals and those who support the work of nonprofit organizations. Since its inception, the center has served more than 1,100 nonprofit organizations.