---
Those of us who are drawn to advocacy and social service work tend to be values-driven and passionate about the people we serve. We are empathic and committed, and we yearn for justice. These qualities, which can make us effective agents of change and healing, can also make us vulnerable. The systems in which we work are often chronically underfunded and over-utilized. The problems we try to address are much bigger than we are. And our empathic openness can lead to secondary trauma. In this presentation, we will explore some of the reasons we are drawn to this work, what risks we face, and how we can tend the fire of vocation and purpose without burning out.
This session is brought to you through a partnership with the Center for Philanthropy and Nonprofit Leadership - OpenRICE and United Way of Greater Houston.


Sign Up For Access To This Session
If you experience trouble with the form above, please try again in an alternate browser. To optimize your experience, we recommend using Google Chrome or Mozilla Firefox.
Closed captioning is available in the space above. If you are having trouble, please turn enable closed captioning using the "CC" icon in the video player or disable your ad blocker and try again.
About Sean Fitzpatrick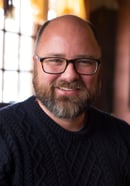 Sean Fitzpatrick, PhD, LPC, is the executive director of The Jung Center and a psychotherapist in private practice. His book The Ethical Imagination: Exploring Fantasy and Desire in Analytical Psychology was published in 2019 by Routledge. His research interests also include the intersection of psychology and spirituality, and vicarious trauma and the self-care needs of helping professionals and social service providers. He is a senior fellow of the American Leadership Forum and serves on the board of the Network of Behavioral Health Providers.
About the Center for Philanthropy & Nonprofit Leadership
---
At the Center for Philanthropy & Nonprofit Leadership, we envision a vibrant philanthropic sector in which nonprofit organizations achieve their missions and people are inspired to give and serve. Our mission is to increase the effectiveness and impact of the nonprofit sector by providing education and nurturing leadership among professionals and those who support the work of nonprofit organizations. Since its inception, the center has served more than 1,100 nonprofit organizations.