---
Dr. Matthew Hayes examines the recent wave of legislation to restrict voting access in Texas and across the nation. He explores the historical context of this legislation from the Voting Rights Act of 1965 to the 2013 Shelby County v. Holder Supreme Court decision. Drawing upon his research on voter identification laws, Dr. Hayes considers the proliferation of voting restrictions in the last decade and how these laws affect the most marginalized members of our community, including people of color, those from low-income backgrounds, disabled voters and the elderly. Dr. Hayes argues that confidence in our elections is of paramount importance for the survival of our democracy. This session includes time for Q & A with the faculty presenter.
This session is brought to you through a partnership with Rice University's Department of Political Science and Community Learning & Engagement at the Glasscock School of Continuing Studies.
Sign Up For Access To This Session
If you experience trouble with the form above, please try again in an alternate browser. To optimize your experience, we recommend using Google Chrome or Mozilla Firefox.
Closed captioning is available in the space above. If you are having trouble, please turn enable closed captioning using the "CC" icon in the video player or disable your ad blocker and try again.
About the Presenter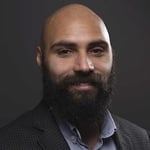 Matthew Hayes, Ph.D., is an Assistant Professor in the Department of Political Science at Rice University and a faculty affiliate of the Center for African and African American Studies. His primary field is American politics, with a focus on racial and ethnic politics, political psychology, and political representation. Dr. Hayes' current research lies at the intersection between race and political representation. He studies how the inclusion of underrepresented groups in politics affects policy outcomes, symbolic representation, and citizens' evaluations of democracy. He has also investigated the effect of redistricting on legislators' responsiveness, and the role of both ethnic identity and skin tone in determining perceptions of ethnic discrimination in Latin America. Dr. Hayes' work has been published in the American Political Science Review, Legislative Studies Quarterly, The Journal of Research in Personality, and The Journal of Politics. At Rice University, Dr. Hayes has taught African American Politics; Political Behavior; Political Psychology; and Race, Ethnicity, and U.S. Politics. He has also served as a faculty speaker in the Glasscock School's elections course.

You Might Also Be Interested In...
---
Facing Race: Racism, Resistance and Reckoning in the United States (EXPANDED)
This foundational course explores the long, painful history of race and anti-black racism in the United States and the powerful movements to resist racial oppression from the Civil War, Emancipation and Reconstruction through the Civil Rights movement and today's Black Lives Matter movement. Rice University faculty and other leading scholars share historical and contemporary insights on our country's fraught relationship with race and anti-black racism. We also examine present-day efforts to reckon with the legacy of slavery and structural inequity. The series culminates with an invitation to imagine and shape new futures.